Open week / month, with anticipation of many firsts, the latter since the launch of the Palm Pre in the coming days it joins more than expected announcement of a new iPhone. While we wait for these developments, go with the classic best of the week.
The Palm Pre has given enough to speak, since "rumors about the charger": Our site and your "sync with iTunes": Our site up to many more "data confirmed": this terminal Our site.
Sony Ericsson has opened the range Unlimited Entertainment with three models: "Yari":Our site, "Satio":Our site, and "aino":Our site.
Movistar has announced that "it will be the Nokia N97": Our site, although Vodafone will also be with him. Speaking of Nokia, "we were proving": Our site the "Ovi Store": Our site.
We ended up with software, the "importance of the interface and the user experience": Our site, the first look at "Android 2.0": Our site and a pair of applications for the future: "Spotify":Our site and "Google Wave": Our site
We do not forget the list of entries most voted by our users.
Google Wave for iPhone and Android (users who voted for him: drguets, ninor, Rafa, erdeaki, nekrodomus)
Interface and the mobile user experience (users who voted for him: allfreedo, ninor, ROC)
Ovi Store: to Fund (I) (users who voted for him: dntcnlgy, drguets, ninor)
Ovi Store: Fund (II) (users who voted for him: dntcnlgy, drguets, ninor)
TomTom Navigator 7 is already available (users who voted for him: José Manuel Benítez, ninor, ROC)
Gallery
Mobile Miscellany: week of December 12, 2011
Source: www.engadget.com
The best mobile games
Source: www.engadget.com
Mobile Miscellany: week of November 14, 2011
Source: www.engadget.com
Mobile Miscellany: week of July 9th, 2012
Source: www.engadget.com
The Best Windows Phone Official Apps for Facebook, Kindle …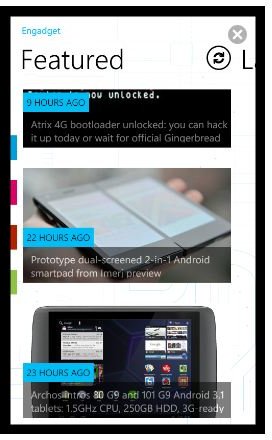 Source: www.brighthub.com
Mobile Miscellany: week of February 4th, 2013
Source: www.engadget.com
Engadget Mobile relaunch giveaways
Source: www.engadget.com
Mobile Miscellany: week of January 14th, 2013
Source: www.engadget.com
Mobile Legends Top 5 plays of the week (Episode 2) √
Source: www.youtube.com
Topic: padphone articles on Engadget
Source: www.engadget.com
The best mobile devices for students
Source: www.engadget.com
Mobile Miscellany: week of April 1st, 2013
Source: www.engadget.com
Mobile Miscellany: week of February 13th, 2012
Source: www.engadget.com
Mobile Miscellany: week of April 23rd, 2012
Source: www.engadget.com
Windows Mobile 7「流出」スクリーンショット:画像認識&マルチタッチ搭載?
Source: japanese.engadget.com
Mobile Miscellany: week of January 30th, 2012
Source: www.engadget.com
Mobile Legends Bang Bang TOP BLOOPERS OF THE WEEK #7
Source: www.youtube.com
Mobile Miscellany: week of January 28th, 2013
Source: www.engadget.com
Mobile Legends: Bang Bang! TOP Highlights Of The Week #26 …
Source: www.youtube.com
EpicAmazing~Mobile Legends: Bang bang! TOP BLOOPERS OF THE …
Source: www.epicamazing.com