Samsung Galaxy tab S 8.4 White
Android 4.4 (KIT KAT)
8.4 "SUPER AMOLED display (2560 x 1600)
A-GPS, GLONASS
OCTA-Core: 1.9 GHz
8 MP rear camera/2 MP front camera
BT 4.0 supports USB mass storage
User memory 16 GB
Fingerprint scanner
Elegant 8.4 "WiFi tablet with Android 4.4 KitKat in white with narrow screen frames. The Tablet do not occupy much and can be easily held in one hand. The used Super AMOLED display has a really high screen resolution of 2560 x 1600 pixels, which is shown in a very bright screen with good contrasts and very vivid colors. The Tablet has a quad-core processor at 1.9 GHz, 3 GB ram and 16 GB of memory for storage, which is expandable with a microSDXC memory cards of up to 128 GB. There are plenty of profits to take advantage of all the apps that are available in Google Play. A-GPS and GLONASS navigation systems are supported. 8 megapixel camera on the back for still images or video and 2 megapixel camera on the front for chat. Besides WiFi is there built-in Bluetooth 4.0. USB mass storage supported, you can use a USB drive as an external drive for storage. Fingerprint scanner, so only you can access the tablet.
A sharper, deeper and more color, strong experience
Samsung has transferred the richly detailed and colorful world, you see with your own eyes, for one, you can watch while you have it in your hands. Compared to traditional LCD tablets with a color reproduction on 73% renders the Super AMOLED screen colors corresponding to 94% * of natures own colors, so you can view video, pictures and other content in vivid colors. * 94% of Adobe RGB gamut. 100% colour scale corresponds 100% to the NTSC standard, Adobe RGB image reproduction
Impressive image quality
Galaxy Tab S creates a brighter and more dynamic image with rich colors and a saturated color and razor-sharp image reproduction. Discover the hidden details, produced with 100 000:1 contrast ratio, which is 100 times larger than traditional LCD screens with 4 million AMOLED pixel. The precise and great color contrast allows you to see even the smallest, fine details.
A first-class sleek design with a low weight
You will be surprised by the slim design. The Galaxy Tab has a screen size of 10.5 ", but weighs only 465 g (Wi-Fi)/467 g (LTE). 8.4 "-model is handy to have when you're on the go.
Adaptive display adapts according to your application
A self-tuning monitor that automatically adjusts the color scale, sharpness and contrast in accordance with your use of the tablet. ** The self-adjusting screen feature works together with the following seven apps: Gallery, Camera, Internet, Video, e-Book (Google playbook), VT Call and UI.
Safe and convenient access with fingerprint
Security is only a matter of a stroke with a finger. The integrated sensor provides features to URf.eks. to unlock the device and unlock it again, replace the id and P/W, logon to multiple users and to hide private content, so you have security over the entire line right at your fingertips.
Multitasking lets you do several things simultaneously
Several Windows at a time allows you to multitask on one screen. You can take notes while watching a video, or search on the Internet and check your mail. On LTE model, you can send and receive voice calls while you multitask.
Galaxy Gifts
Galaxy Tab S comes with a variety of offerings from some of the world's leading brands with a value of over 1000 USD, which will take your Galaxy Tab's experience to new heights. Download the various apps from Galaxy Married Widget and Samsung Apps.
Remote control your PC
Work anywhere with the Galaxy Tab S. synchronize your home-or job computer with the Galaxy Tab's, and edit, save, and publish documents using the remote control. * Supports Windows/Mac PC. * Your computer must be switched on.
SideSync 3.0
SideSync 3.0 makes it possible for you to display and manage your smart phones screen on the Galaxy Tab S. You can also call and receive calls on your tablet. * Currently works only with forwarding Galaxy S5.
Cisco WebEx
WebEx offers video conferencing for up to eight people at once. Talk directly with each other, and share documents simultaneously. Try a free 6-month test period of WebEx for a value of US $ 144.
Samsung KNOX
KNOX is Samsung's innovative security solution for mobile products that meet the industry's stringent requirements for safety. KNOX keeps your programs and data safe in the Galaxy Tab's, so you can focus on something else.
Gallery
Samsung to update the Galaxy Tab 2 until Android 4.2.2 …
Source: www.sammobile.com
Samsung Galaxy Tab S 10.5 Wi-Fi Tablet
Source: www.samsung.com
Samsung Galaxy Tab S 10.5 4G LTE + Wi-Fi Tablet
Source: samsung.com
Samsung Galaxy Tab S 16GB 8.4in SM-T700 Wi Fi White …
Source: commonshopping.com
Samsung Galaxy Tab A 8-Inch Tablet 16 GB, White
Source: www.11street.my
Buy Samsung Galaxy Tab A 8" Tablet 16GB
Source: www.pcgamingcr.com
Samsung Galaxy Tab A 8.0" Wi-Fi 16GB SM-T350NZASXAR Smoky …
Source: www.ebay.com
NEW Samsung Galaxy Tab A SM-T357T 16GB Titanium 8" WiFi 4G …
Source: www.ebay.com
Samsung Galaxy Tab 2 8GB, Wi-Fi, 7in
Source: www.repairplaza.com
Amazon.com : Samsung Galaxy Tab 3 P5210 WiFi White Tablet …
Source: www.amazon.com
Samsung Galaxy Tab A 16GB 8-Inch Tablet
Source: dgxtech.com
ขายด่วน Samsung Galaxy Tab A 8.0" with S Pen (* มือสองใน …
Source: smartphone-tablet-discount.blogspot.com
Samsung Galaxy Tab S Titanium Bronze Hands on Comparison …
Source: www.youtube.com
Samsung Galaxy Tab A 8.0 16GB Titanium #SM-T350NZAAXAR …
Source: www.expansys-usa.com
Samsung Galaxy Tablet 16GB S Multi-Touch 10.5" ; SM …
Source: www.bhphotovideo.com
Samsung Galaxy Tab A 8 inch Wi-Fi 16GB Tablet
Source: www.ebay.com
Samsung announces Galaxy Tab S series
Source: samsung-updates.com
Amazon.com: Samsung Galaxy Tab E Lite 7"; 8 GB Wifi Tablet …
Source: www.amazon.com
Samsung Galaxy Tab A: 8-inch 16GB Tablet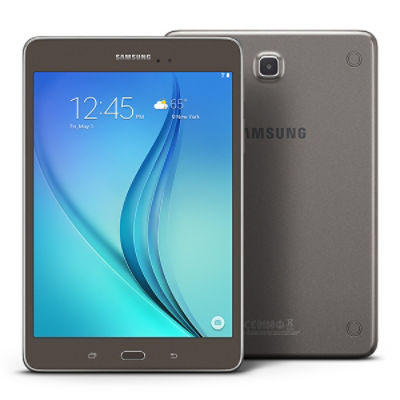 Source: www.samsung.com
Samsung Galaxy, Tablet Pc's, Chargers, Apple Ipad-A4C …
Source: tabargains.com